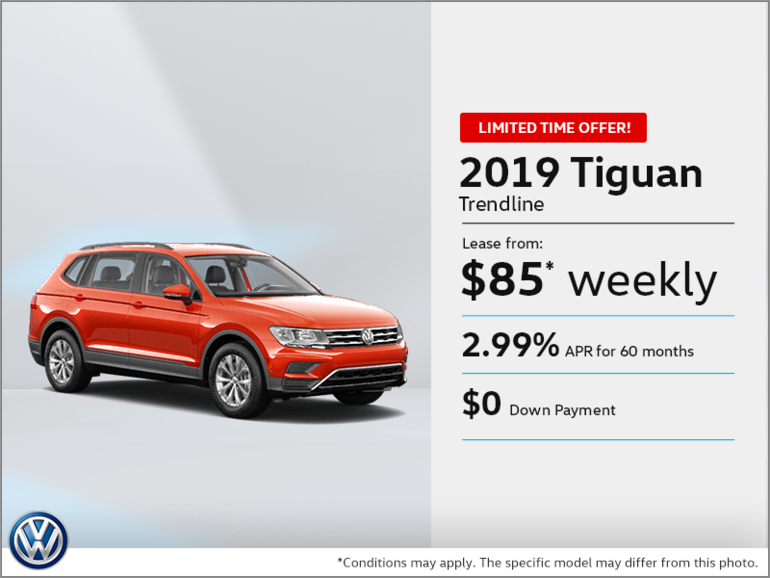 Lease the 2019 Volkswagen Tiguan Trendline from $85 weekly at 2.99% for 60 months with $0 down!
Retail value $29,225.
Certain conditions apply, this offer ends on April 1st, 2019.
Book your test drive now!
ΔCette offre d'une durée limitée est soumise à l'approbation du crédit par Volkswagen Finance et est applicable à la location d'un modèle de base 2019 de Tiguan 2,0 L Trendline avec auto neuf et non immatriculé. Frais de transport et inspection de prélivraison de 1 885,00 $ inclus dans le paiment mensuel. Location de 60 mois à un TAP de 2,99 % correspond à 260 paiements weekly à partir de 84,93 $. Acompte de 0,00 $, dépôt de garantie de 0 $, et tout montant excédant le crédit accordé pour la première mensualité, le cas échéant, requis à la signature. Obligation totale de 22 081,95 $. Frais additionnels de 0,15 $ du kilomètre après 16 000 km. Frais en vertu de la LSM (si applicable), ermis, assurances, immatriculation, équipement en option et taxes applicables en sus. Le concessionnaire peut vendre ou louer à prix moindre. Une commande ou un échange entre concessionnaires peut être requis. Modèle montré à titre indicatif seulement.